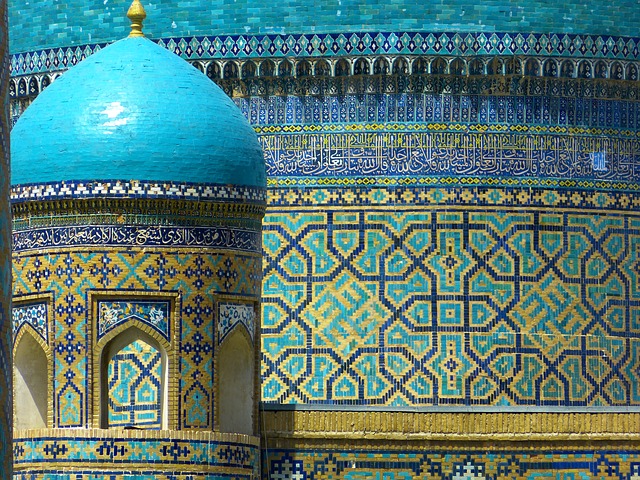 Arrive Tashkent, Uzbekistan
Received by Guide and transfer to Hotel in Tashkent.
Evening Guided Walk to Tashkent City:
Amir Temur Square – Central park with the statue of Amir Timur on the horseback and so called "Broadway".
Navoi Theatre - Planning and construction of the Theatre was started in 1940 and was completed in 1947 by Japanese prisoners of war.
Independence (Mustakillik) Square – Former "Red Squire" the main square of the Tashkent with the monument dedicated to victims of the WW II.
Dinner in the city.
Overnight at Hotel in Tashkent.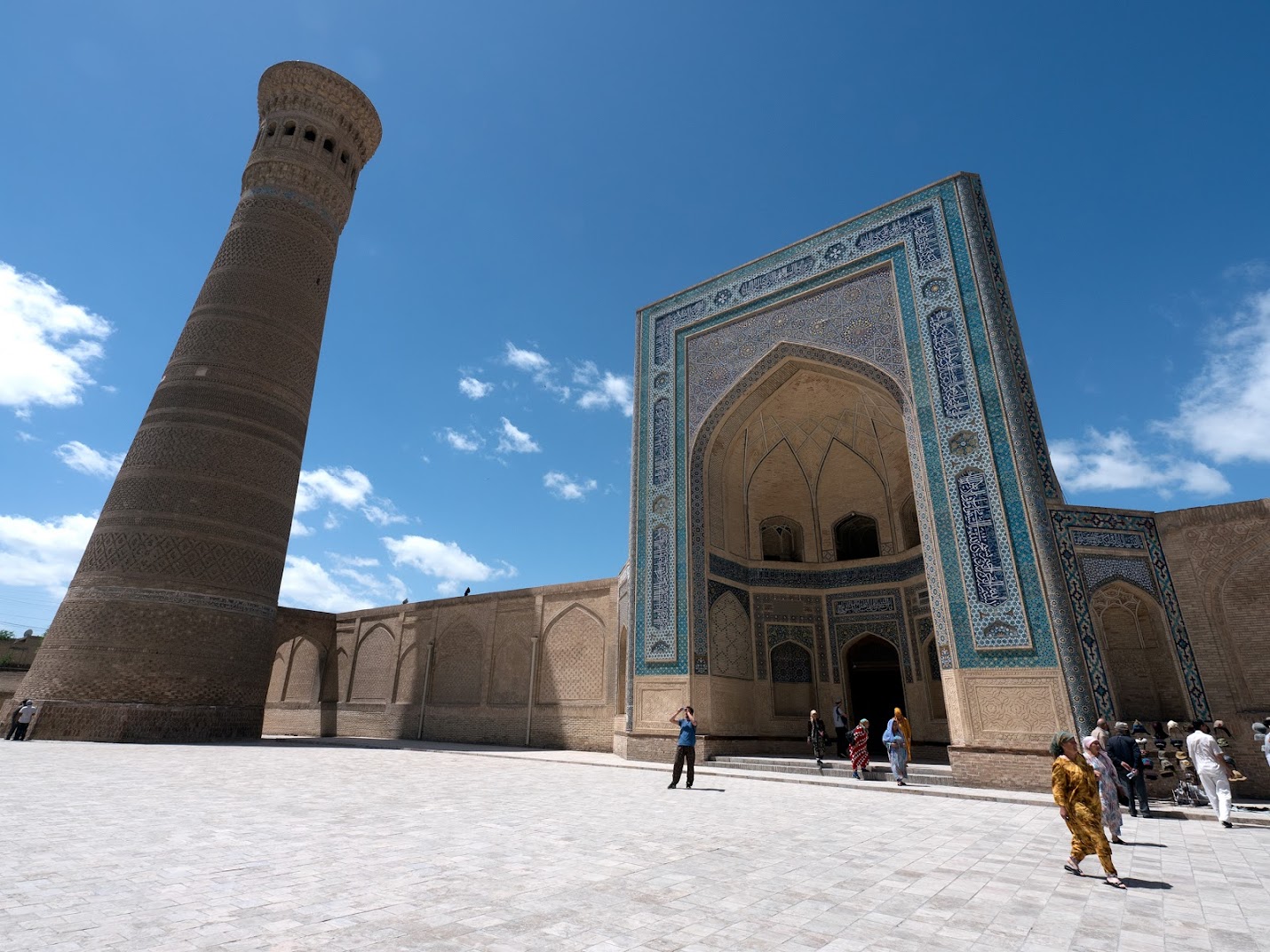 Tashkent – Urgench – Khiva
After breakfast depart for a half day sightseeing tour of Tashkent.
KhastImom Complex including Barak Khan Madrassah, Kaffal Shashi Mausoleum, Quran Library & Mosque.
Kukeldash Madrassah- in Chorsu Square ranks as the largest madrassah in Tashkent and one of the leading Muslim theological education establishments in the whole of Central Asia.
Chorsu Bazaar- The main oriental market in Tashkent.
After Lunch continue with the rest of your sightseeing.
Tashkent Metro Station - Tashkent's palatial metro system, is one of the most ornate in the world.
Transfer to Airport for evening flight to Urgench.
Transfer to Khiva.
Dinner and overnight in Khiva.​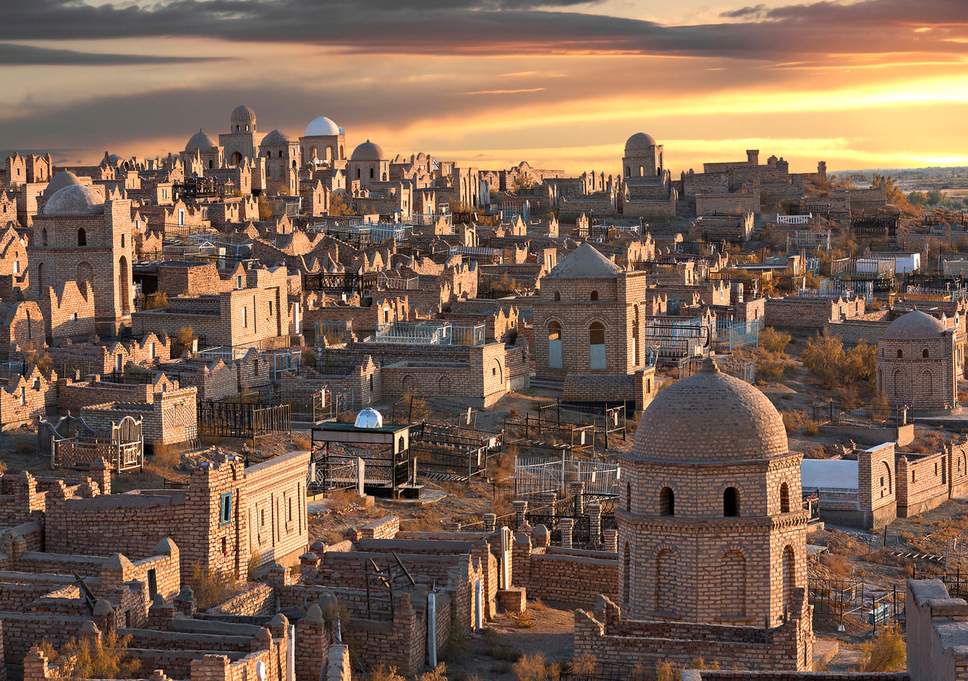 Khiva Sightseeing
After breakfast at Hotel start your day with sightseeing of the World Heritage- listed town Khiva. Almost all of the sightseeing places in Khiva are located in the Itchan Kala, which is the inner town of Khiva.
Kelte Minar & Muhammad Amin Khan Madrassah
Kunya ark – An inner fortress with administrative buildings, gunpowder works, law courts, mosque.
Pakhlavan Makhmud Complex – The most remarkable architectural memorial complex in Khiva with unique tiles.
Ak-Sheikh Baba Observation Platform.
Lunch in the city and continue with the rest of the sightseeing. /li>
Islam Khodja Minaret and Madrassah–The highest building in Khiva with an observation area.</li.
Djuma Mosque - Almost in the centre of Ichon-Qala, is the large and atmospheric Juma Mosque with the 218 wooden columns supporting its roof – a concept thought to be derived from ancient Arabian mosques
Tash Hovli Palace – This palace which means 'Stone House', contains Khiva's most sumptuous interior decoration, dense with blue ceramic tiles, carved wooden pillars and elaborate ghanch.
Enjoy dinner.
Overnight at Hotel in Khiva.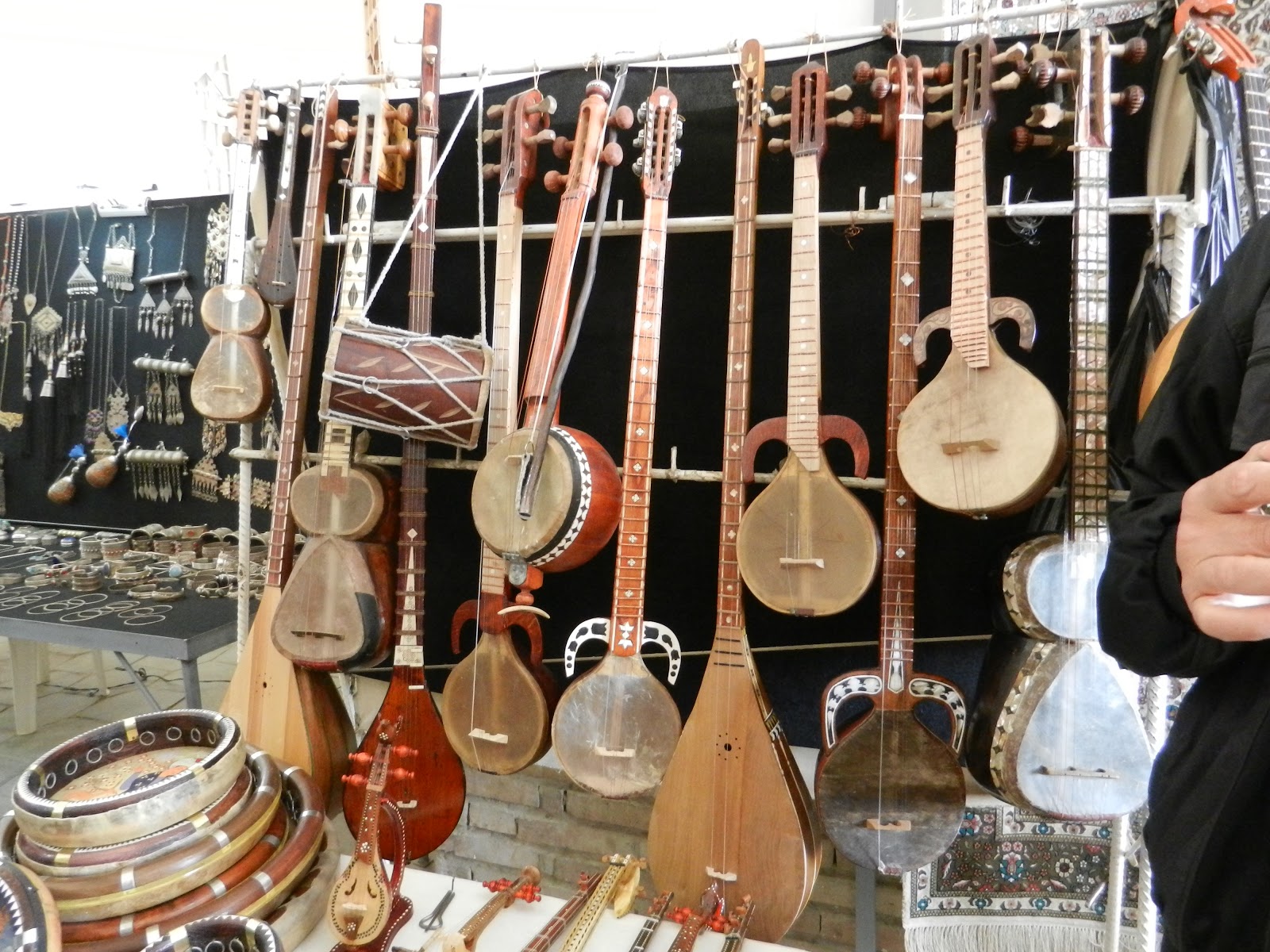 Urgench – Bukhara
After Breakfast at Hotel, transfer to Airport for morning flight to Bukhara by HY-052 at 09:30-10:35.
Start your Bukhara sightseeing with a visit to the:
ARK Fortress -The Ark Citadel is a massive fortress located in the city of Bukhara that was initially built and occupied around the 5th century AD.
Bolo-Hauz Mosque - Bolo-Hauz Mosque is the 17th century mosque, which was a place of prayer for the Emirs and their entourage.\
Poikalon Complex - Is the main ensemble in Bukhara center, situated on the way to trade crossing of "four bazars" and Poi-Kalyan means "the pedestal of the Great". Ensemble consists of 4 monuments: Kalyan Mosque and Miri-Arab Madrasah – facing each other with main fronts; between them is Kalyan Minaret; to the south of Miri-Arab there is the small Amir-Allimkhan Madrasah.
After Lunch, check into Hotel in Bukhara. In the evening continue with rest of sightseeing.
Trading Domes consisting of three trading centers:
Tok-i-Zargaron– Jeweler's Bazaar.
Tok-i-Tilpak Furushon – Cap Maker's Bazaar.
Tok-i-Sarrafon – Moneychanger's Bazaar.
MagokiAttori– The most ancient preserved Bukhara mosque, Magoki Attari is situated in the center of the city, near Lyabi Hauz complex.
Lyabi – Haus -Lyabi-Hauz, a plaza built around a pool in 1620, is the most peaceful and interesting spot in town - shaded by mulberry trees. The plaza maintains its old-world style despite the evening pop music and family fun fair feel.
Chor-Minor – One of the most surprising buildings in Bukhara with four minarets - one for each corner was built in 1807, by Turkmen merchant Khalif Niyazkul. Dinner in a Local Restaurant in Bukhara. Overnight at Hotel in Bukhara.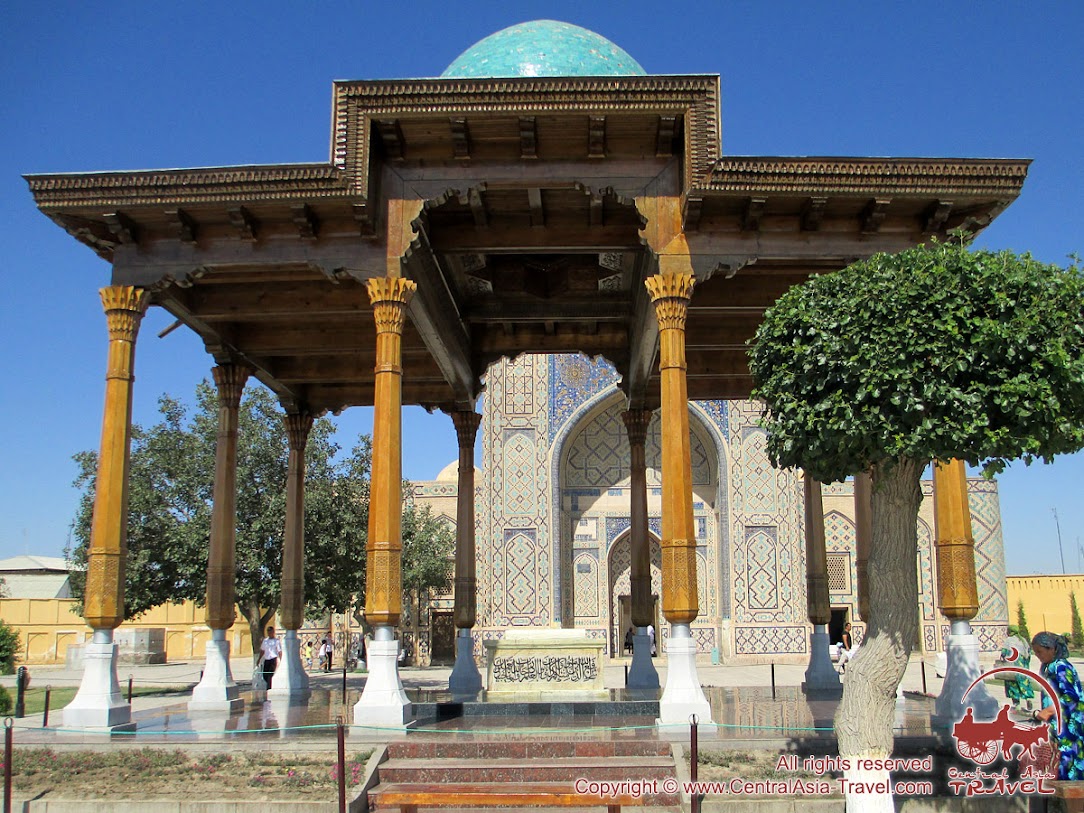 Bukhara – Gijduvan - Bukhara
Today we will visit the Centre of Ceramic Heritage of Uzbekistan – Gijduvan, which is famous for its Ceramic Pottery. You will find potteries of 5th generation in Gijduvan.
Watch the full process of Ceramic making and small house-museum of ceramic during your visit to Ceramic Pottery Workshop and Master's House.
Return to Bukhara.
Time at leisure.
Enjoy an evening of Folklore in Madrassah Nodir Devon Begi. Dinner in the City. Overnight at Hotel in Bukhara.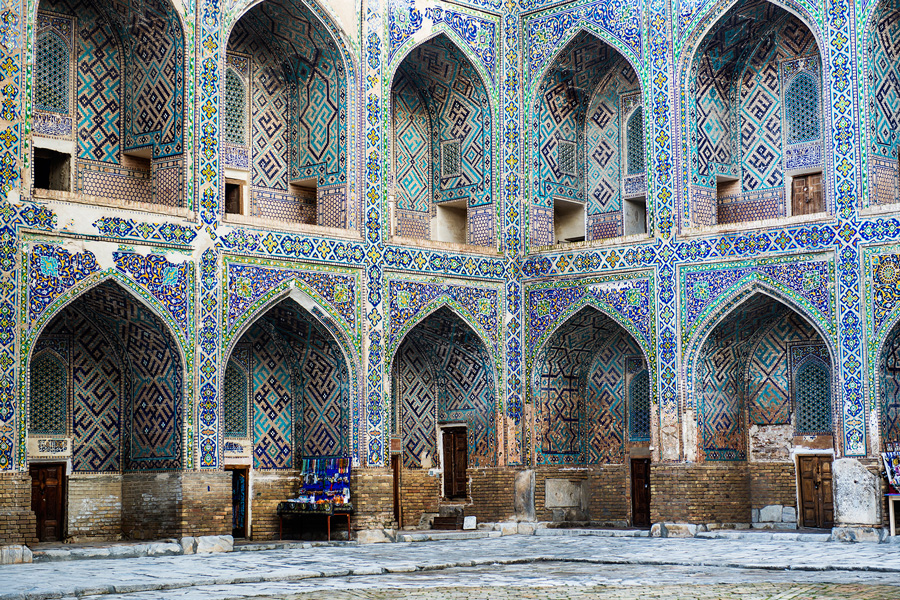 Bukhara – Samarkand Half day sightseeing of Bukhara
After Breakfast at Hotel in Bukhara, visit:
Chashma Ayub Mausoleum – The original construction dates back to the 12th century.
Samanid's Mausoleum - It was the first building in Central Asia constructed from backed bricks in the shape of a cube covered by a dome with unrepeatable geometrical brickwork design – a masterpiece of world architecture.
Sitorai Mohi–Khosa – Located at a distance of 4 km from Bukhara to the north, Sitorai Mokhi-Khosa Pala was the countryside residence of Bukhara emirs.
Post Lunch transfer to Train station for onward journey to Samarkand.
Check-into Hotel in Samarkand.
After Dinner enjoy a Guided Walk to Registan Square.
Overnight at Hotel in Samarkand.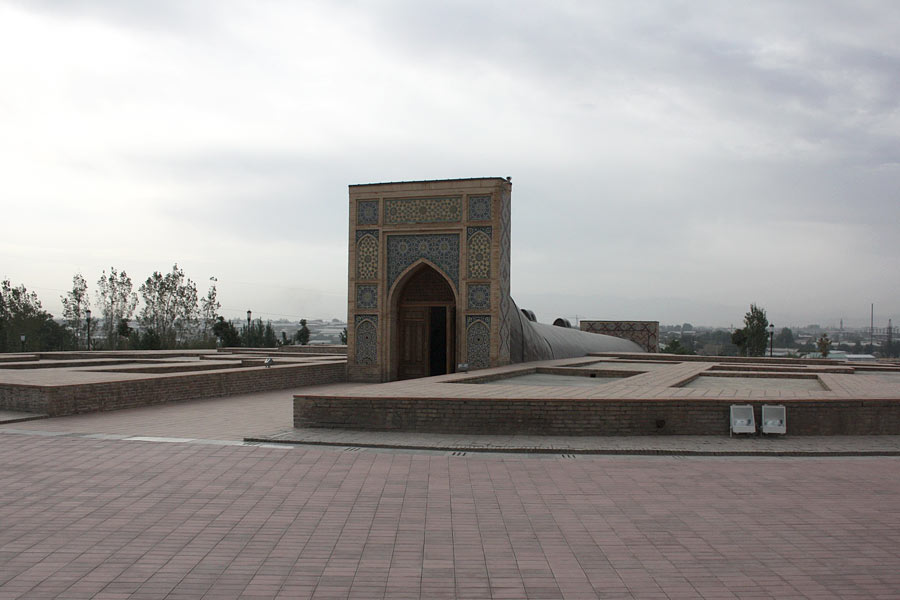 Samarkand Sightseeing
After Breakfast, set out to explore the ancient city of Samarkand. We will start our day by visiting Ulugbek's Observatory.
Afrosiab Museum & Afrosiab Hill The Afrosiab Museum was built around one of Samarkand's more important archaeological finds, a chipped 7th-century fresco of the Sogdian King Varkhuman receiving ranks of foreign dignitaries, while sitting astride elephants, camels and horses.
Shahi Zinda Mausoleum This is one of the most mysterious and unique architectural monuments of Samarkand. Shakhi Zinda consists of eleven mausoleums, which were built one after another in 14 - 15th centuries.
Post lunch, visit Bibi Khanum Mosque The enormous Bibi-Khanym Mosque, northeast of the Registan, was financed from the spoils of Timur's invasion of India and must have been the jewel of his empire.
Siab Bazaar - Main Bazaar of Samarkand, on the crossroad of ancient trading routes. Overnight at Hotel in Samarkand.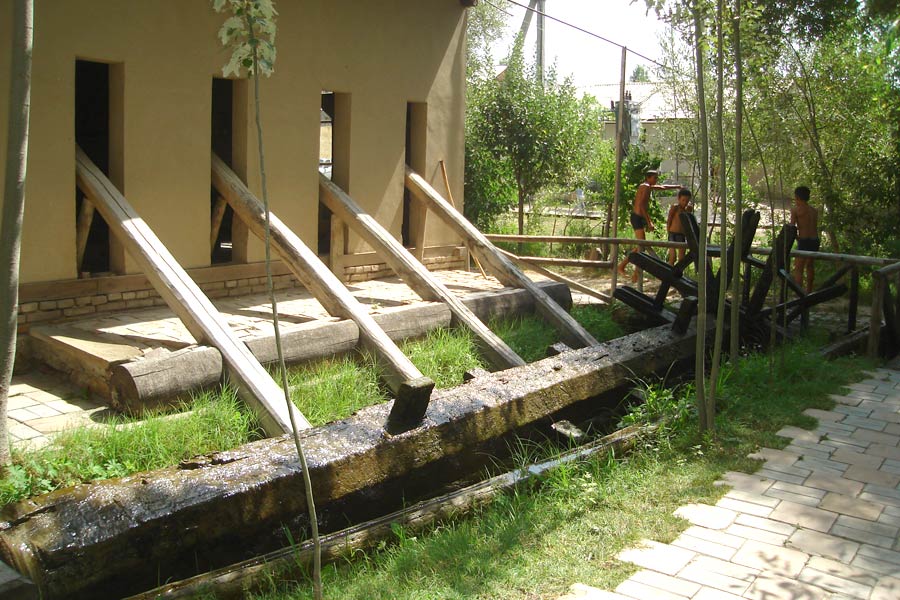 After Breakfast at Hotel, we will visit "Konigil Meros" Water Mill & Paper Factory located about 10 km from Samarkand.
The Silk Paper Factory – The craftsmen of organization "Konigil Meros" which is a family run unit, produce handmade Samarkand Paper by ancient recipe from mulberry tree bark.
Registan Square – The official center of Timur Empire, consist of grandiose Madrassah of Ulugbek, Sher Dor & Tillya Kari.
Gur Amir Mausoleum – A masterpiece of Islamic architecture of medieval East.
Transfer to Station for onward journey to Tashkent by "Afrosiab" Train.
Overnight at Hotel in Tashkent.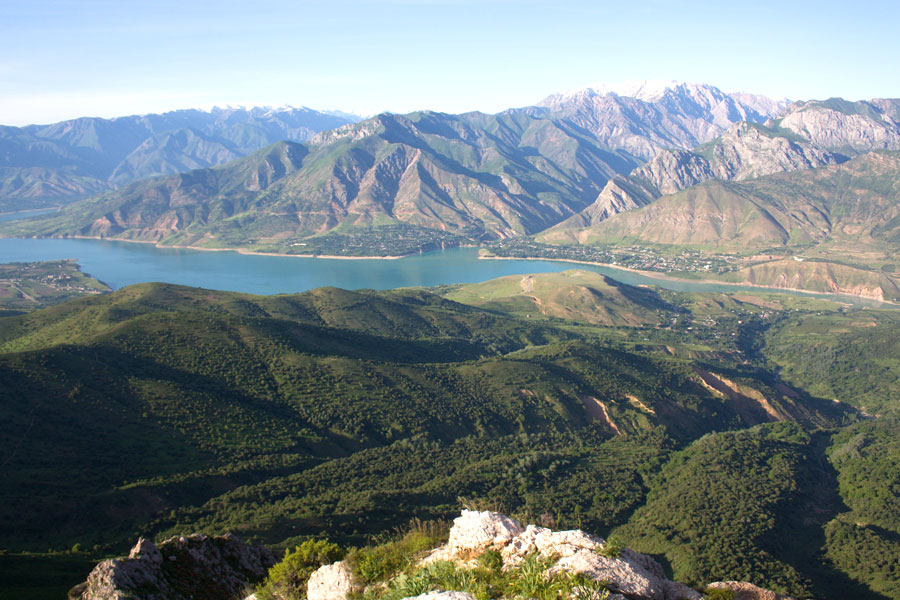 Chimgan Mountains and Charvak Lake
After Breakfast, embark on a day trip to Chimgan Mountains and Charvak Lake. Just over an hour northeast of Tashkent by car lies Ugam-Chatkal National Park with the nickname "Uzbek Switzerland."
UNESCO declared Chatkal Mountains a World Heritage Site in 2016. Enjoy the entire road journey full of picturesque surroundings with local villages, gardens and streams. Ride on a Chair Lift to the top of Chimgan Hill (subject to operation/weather conditions). Continue to the shore of Charvak Lake which is formed by joining of the 4 biggest rivers and surrounded by green mountain flanks.
Return back to Tashkent. Transfer to Airport for flight back home. Flight departure @2300 hrs