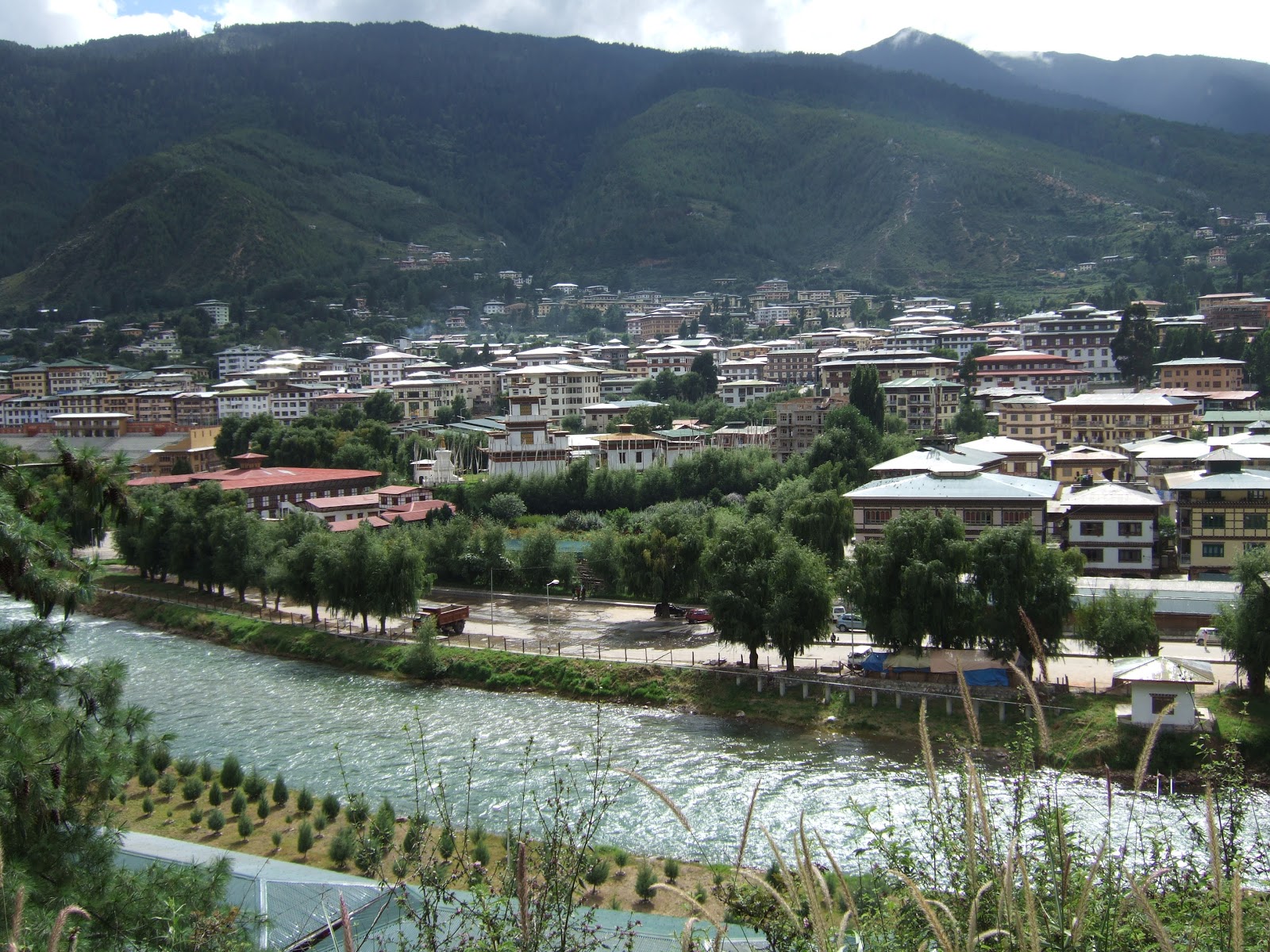 Arrive Paro by Air & transfer to Thimphu (55km, approx. 1.1/2 hour drive)
Fly into Bhutan getting stunning views of the Himalayan Range (Mount Everest and Kanchenjunga).
Meet up with our English speaking guide and drive through the fascinating valley of Paro through Thimphu.
Pass by Tamchongg Lhakhang an amazing architectural wonder!
En-route stop at Chuzom, the confluence of Thimphu and Paro Rivers.
Check-in to the Hotel to unwind.
Evening is free to stroll through Thimphu main street to witness the ancient traditions alongside modern development.
Group Dinner and Welcome to Bhutan!
Overnight at Hotel in Thimphu (Altitude 2,320 m)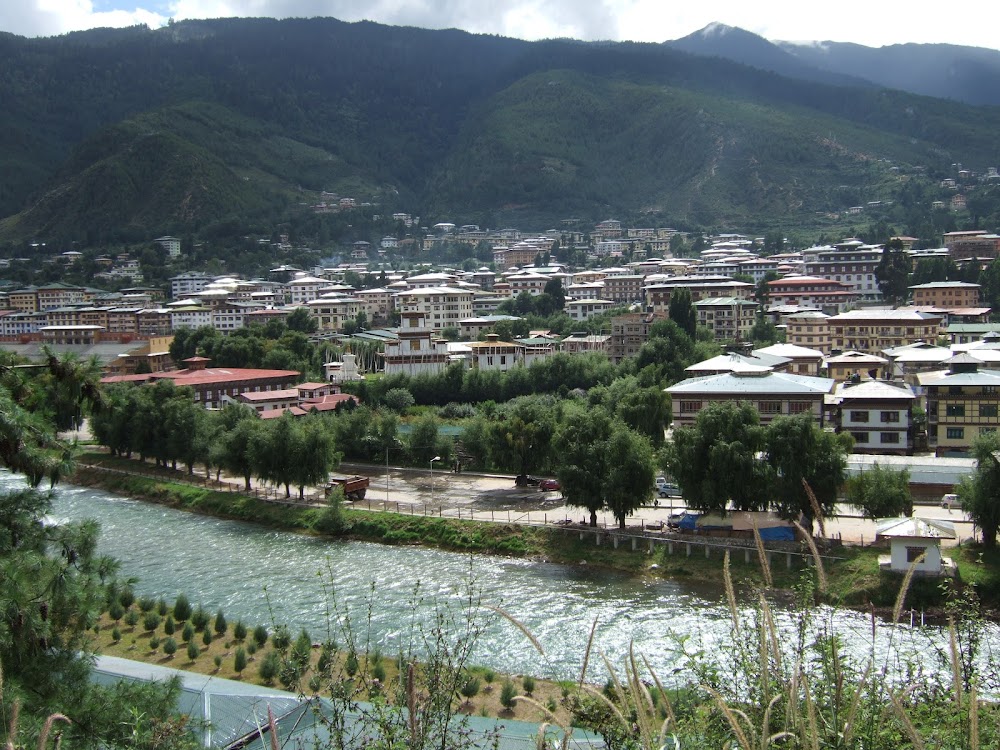 Thimphu - local sightseeing
After a hearty breakfast drive to Buddha Point where one can offer prayers to the largest Buddha statue in the country.
Visit King's Memorial Chorten (Tibetan style architecture), a memorial to the father of Modern Bhutan and World Peace.
Walk around the 3 storied traditional building housing the Folk Heritage Museum, a fascinating testimony of the Bhutanese Culture.
Sample authentic Bhutanese Cuisine (Jasha Maru –spicy chicken) in the Restaurant of the Museum.
Visit the National Library,a fine example of traditional Bhutanese Architecture housing an extensive collection of priceless Buddhist manuscripts.
Visit Institute for Zorig Chusum the Painting School, which was established by the Royal government to promote traditional and spiritual art in contemporary Bhutan.
Get personalized postage stamps made at the local post office, with Bhutan backdrop and post your letters to your loved ones!
Later in the afternoon visit Trashi Chhoedzong, fortress of the glorious religion built in Bhutanese architectural style, without nails or architectural plans.
Witness an Archery Match (National Sport of Bhutan), if lucky, at the Changlimithang Stadium and Archery Ground.
Evening time stroll through the government-run Handicrafts Emporium and local crafts bazaar, to browse through Bhutan's fine traditional arts.
Optional – if you have the energy head out to one of Thimphus dance clubs.
Overnight at the hotel in Thimphu.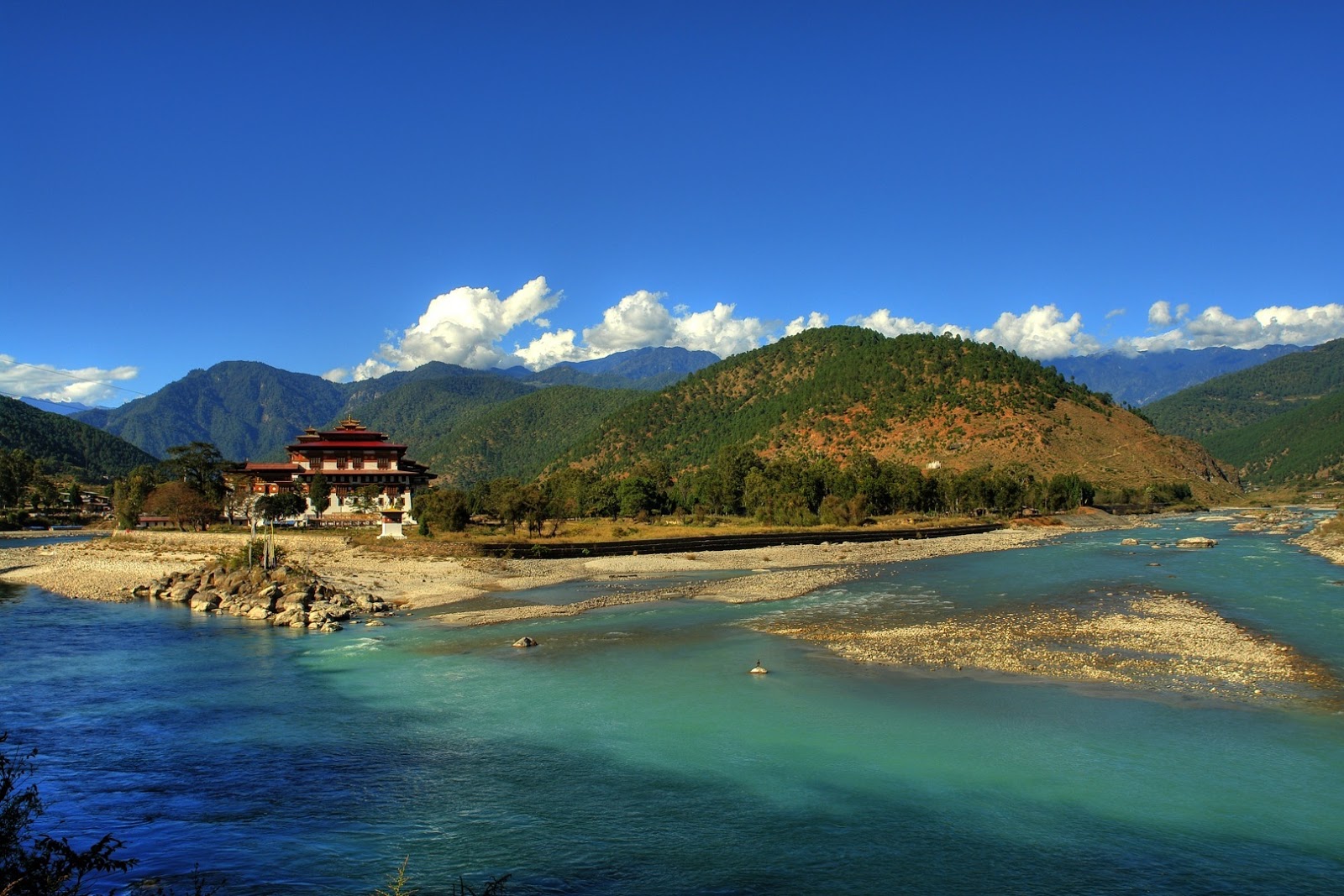 Thimphu – Punakha (75 km, approx. 3 hours drive)
After breakfast, drive to Punakha across Dochu La Pass. Located at a height of 3,088m/ 10,130 ft, Dochula is a scenic location with chorten, mani wall and colorful prayer flags which decorate this highest point on the road. This point offers visitors their first glimpse of the Himalayan range. Stop and enjoy hot drinks and biscuits at the local restaurant as you take in this breathtaking sight!
Stop mid drive to visit the 108 Stupas sitting majestically on the pass and Druk Wangyel Lha Khang.
Break for Lunch (on your own) and Check Into your Hotel.
After lunch visit Punakha Dzong: Majestically standing on an island between the confluence of Po Chu (male) and Mo Chu (female) rivers, the city's dzong is one of the most photogenic of all Bhutan's ancient fortresses. The dzong is joined to the mainland by an arched wooden bridge, and contains many precious relics from the days when successive kings reigned the kingdom from this valley. We will also put up Prayer Flags along the way for a safe journey and for wellbeing.
In the evening visit Sangchhen Dorji Lhuendrup Lhakhang Nunnery, which houses a higher learning and meditation centre for Nuns. The temple houses a 14-foot main bronze statue of Avalokiteshvara (Chenrigzig chagtong chentong). The Avalokiteshvara Statue, one of the biggest in the country, is the handiwork of entirely local Bhutanese artisans.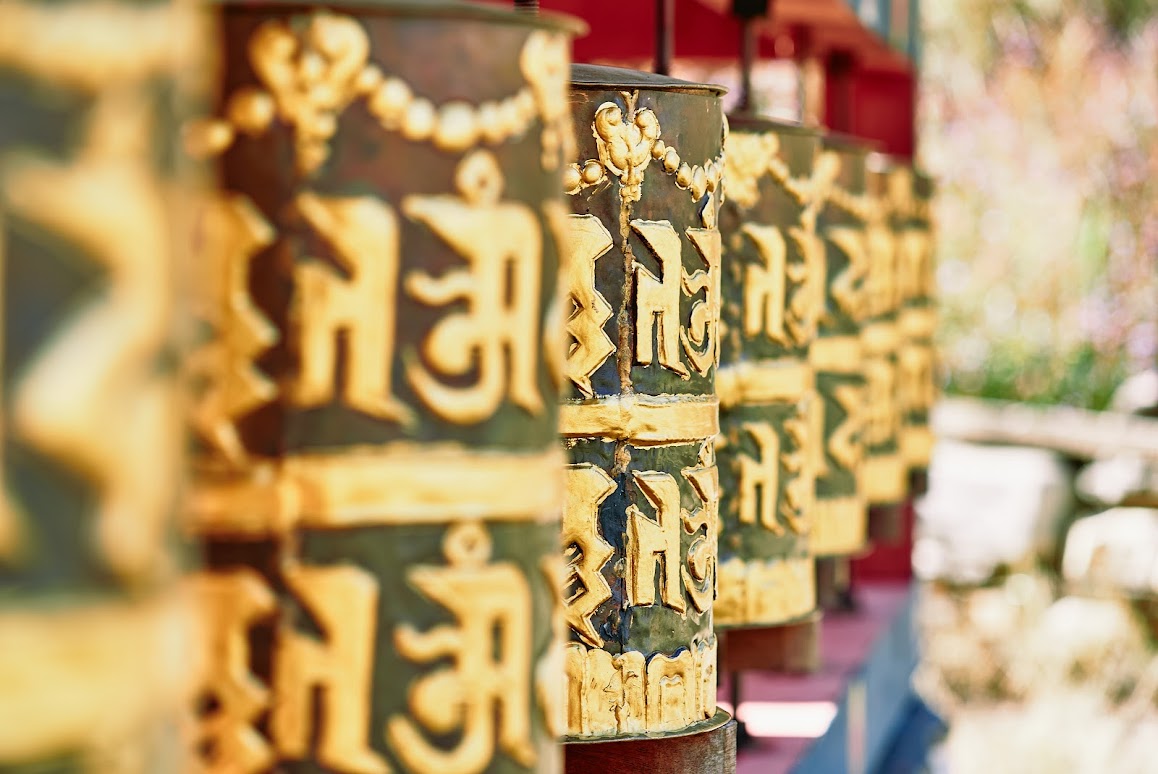 Punakha
Early morning hike to Chimi Lhankhang, the Temple of Fertility through paddy fields. A walk through the village near the temple will give you rare glimpses into the daily life and lifestyle of the villagers.
Later excursion to Talo village. The village of Talo (alt. 2,800m) which is scattered along the hill slopes, known for its cleanliness and hygiene among Punakha villages. Talo Sangnacholing is built on a plateau and has majestic view of surrounding villages. The beautiful farm houses of the village have its own flower gardens and on the hill slope corns and sweet peas are grown in abundance.
Option: River Rafting in the Mo Chhu River (Highly Recommended).
Dinner at Hotel.
Overnight at the hotel in Punakha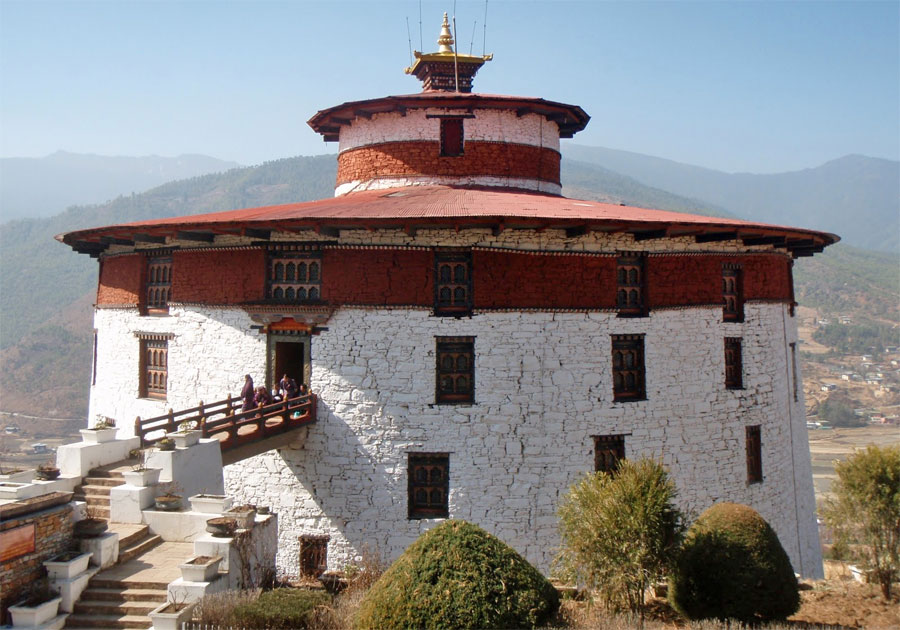 Punakha – Paro (125 kms, approx. 4.1/2hours drive)
After Breakfast transfer to the historic town of Paro.
En route visit Simtokha Dzong, the oldest fortress in Bhutan. Known as the place of profound tantric teaching.
Enjoy some local delicacies (Emadatshi – chillies & cheese stew) at a restaurant in town.
Thereafter visit Ta Dzong (National Museum) originally built as a Watchtower.
Later walk down the trail to visit Rinpung Dzong, fortress of the heap of jewels, a place of historic importance.
Dinner and overnight at hotel in Paro (Altitude 2,280m)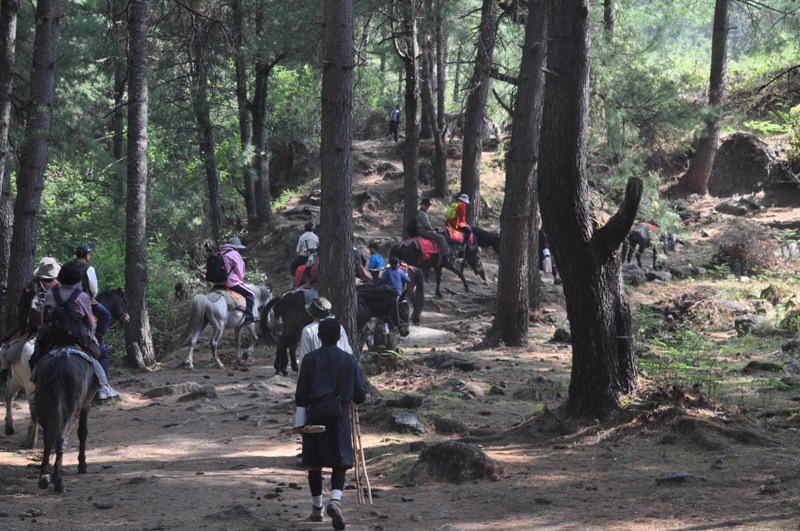 Paro
Get an early breakfast.
No trip to Bhutan would be complete without a hike to Taktsang Monastery. Immerse yourself in spirituality on this visit to Tiger's Nest (approx. 5 hours up and down).
Learn the history and significance of the monastery as one of the most sacred and venerated sites in Buddhism.
Head back for a late afternoon lunch (Thukpa & Momos) and rest.
Evening enjoy the luxurious Spa at your hotel or feel free to roam the markets of Paro for those last minute soveniers.
Group Farewell Dinner.
OPTIONAL (@ RS 2500 p/p + 5% GST)
Haa Valley – (Minimum 2 pax required for this trip) The Valley is a nestled paradise connecting Paro, Chhukha, and Samtse districts of Bhutan. Truly a cut above the rest, the Haa Valley takes one through to the magical place beyond mountains in Bhutan where the world is so serene and light is pristine. During the pre-Buddhist era, Haa Valley was known for its animist tradition. Such animist belief, however, was transformed into peaceful Buddhist tradition in the 8th century by Guru Padmasambhava. Haa Valley was opened for the first time to foreign tourists in 2002 and is a delight for Nature Lovers.
Haa town is known for its ancient traditions and rituals and with its thinly populated valley region, this place gives one the tranquilizing feel that very few other places would. Lhakhang Karpo (White Temple) and Lhakhang Nagpo (Black Temple) from the 7th century lie nestled in the foothills of the Meri Puensum Mountains. The valley is also unparalleled in Bhutan in terms of the diversity of folk culture, legends, and Shamanistic Rituals.
Overnight at hotel in Paro.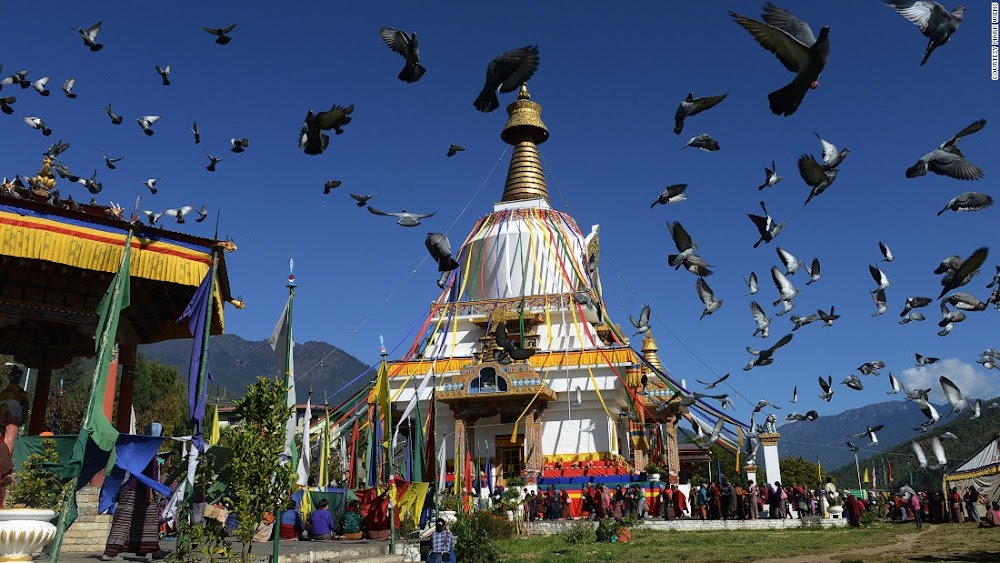 Depart Paro
Early morning drive to the airport for your return flight back to New Delhi. Goodbye Bhutan!